Chemical Structural Formula of Hexachloroethane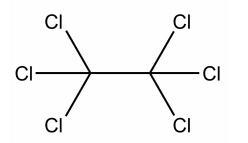 Technical Sheet of Hexachloroethane
| | |
| --- | --- |
| PRODUCT: | Hexachloroethane |
| CAS # | 67-72-1 |
| MOLECULAR | CCI3-CCI3 |
| APPEARANCE: | Colorlescrystalcamphor-like odor |
| MOL. WT.: | 236.76 |
| | | |
| --- | --- | --- |
| ITEM | SPECIFICATION | RESULTS |
| CCI3-CCI3 content | 99.5% min. | 99.5% |
| Melting point | 184 min. | 184.5 |
| Humidity | 0.02%max | 0.01% |
| Acid grade as HCL | 0.03%max | 0.02% |
| Ignition residue | 0.02%max | 0.018% |
| Chloride | 0.01%max | 0.003% |
| Iron | 0.006%max | 0.004% |
| Alcohol insoluble | 0.02%max | 0.018% |
Packaging of Hexachloroethane
Net Weight: 175kgs / Iron Drum
Leakage Emergency Treatment of Hexachloroethane
Isolate the contaminated area and restrict access. It is suggested that emergency treatment personnel should wear self-contained breathing apparatus and general working clothes. A small amount of leakage: collect with a clean shovel in a dry, clean, and covered container. A large amount of leakage: collected, recycled, or transported to the waste disposal site for disposal.
Waste disposal method: incineration method. When the waste is mixed with other fuels, the combustion should be sufficient to prevent the generation of phosgene. The hydrogen halide in the exhaust gas of the incinerator is removed by the acid scrubber.
Protective Measures of Hexachloroethane
Respiratory system protection: self-suction filter dust mask should be worn when exposed to dust. In case of emergency rescue or evacuation, it is recommended to wear self-contained breathing apparatus.
Eye protection: generally, no special protection is required. Safety glasses can be worn when exposed to high concentrations.
Body protection: penetrating gas type anti-virus clothing.
Hand protection: wear chemical-resistant gloves.
Others: smoking, eating and drinking are prohibited at the worksite. After work, take a bath and change clothes. Store the clothes contaminated by poison separately and use them after washing. Pay attention to personal hygiene.
First Aid Measures of Hexachloroethane
Skin contact: take off contaminated clothing and wash skin thoroughly with soapy water and water.
Eye contact: lift the eyelids and rinse with flowing water or normal saline. Seek medical advice
Inhalation: quickly leave the site for fresh air. Keep the respiratory tract unobstructed. If breathing is difficult, give oxygen. If breathing stops, perform artificial respiration immediately. See a doctor.
Ingestion: drink enough warm water, induce vomiting, and wash stomach. See a doctor.
Fire fighting method: firefighters must wear gas masks and full-length fire-fighting clothing. Spray water to keep the fire container cool until the end of fire fighting. Fire extinguishing agents: fog water, foam, carbon dioxide and sand.