Chemical structural Formula of Potassium Perchlorate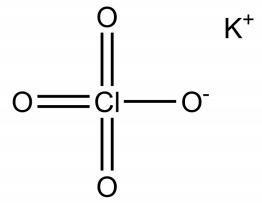 Technical Sheet of Potassium Perchlorate
| | |
| --- | --- |
| PRODUCT: | Potassium Perchlorate |
| CAS # : | 7778-74-7 |
| MOLECULAR FORMULA: | ClKO4 |
| APPEARANCE: | WHITE CRYSTAL POWDER |
| MOL. WT.: | 138.55 |
| | | |
| --- | --- | --- |
| ITEM | SPECIFICATION | RESULTS |
| CIKO4 content | 99.0% min. | 99.3% |
| Humidity | 0.03%max | 0.02% |
| Water-insoluble | 0.03%max | 0.01% |
| Chlorate | 0.03%max | 0.01% |
| Chloride | 0.03%max | 0.01% |
| PH | 5.7 - 8.5 | 6.5 |
| RESIDUE (150um) | 0.50%max | 0.07% |
What is Potassium Perchlorate Used For?
Potassium percolate is used in explosives, photography, and fireworks.
Potassium percolate is also used in the medical industry as an antipyretic and diuretic.
Potassium percolate is used as an analytical reagent, oxidant and solid rocket fuel.
Packaging of Potassium Perchlorate
Net Weight: 25kgs / Bag
As a professional potassium perchlorate supplier, we have bulk potassium perchlorate in stock all year. Welcome your inquiry for the Chinese potassium perchlorate price.
First Aid of Potassium Perchlorate
Inhalation of potassium percolate: Immediately leave the scene for fresh air. Keep the respiratory tract unobstructed. If breathing is difficult, give oxygen. Respiratory and cardiac arrest, immediate cardiopulmonary resuscitation. seek medical treatment.
Skin contact: Immediately take off the clothes contaminated with potassium percolate and wash off potassium percolate with plenty of running water for 20-30 minutes. If you feel unwell, see your doctor
Eye contact: Immediately separate eyelids and rinse thoroughly with plenty of running water or saline for 10-15 minutes to remove potassium percolate. If you feel unwell, see your doctor
Ingestion of potassium percolate: gargle with water, drink milk or egg whites. seek medical treatment
Fire fighting precautions and protective measures:
Firefighters should work in sheltered places, wear full-body fireproof and gas-proof clothing, and wear air breathing apparatus to put out fires in the upwind direction. Move containers containing potassium percolate from the fire to an open area if possible. Spray water to keep the fire container cool until the end of fire fighting. Covering with sand is prohibited. This product potassium percolate does not burn, according to the cause of the fire, choose the appropriate fire extinguishing agent to extinguish the fire.
Emergency procedures for operators:
Isolate areas contaminated with potassium percolate and restrict access. It is suggested that emergency treatment personnel should wear dust masks, anti-virus clothing and rubber gloves. Do not let the leakage come into contact with combustible materials (such as wood, paper, oil, etc.). Do not touch broken potassium percolate-containing containers and leaks before wearing proper protective equipment. Cut off the leakage source of potassium percolate as much as possible. Collect the spilt potassium percolate with a clean shovel, place it in a clean, dry container with a loose cover, and move the container away from the leakage area.